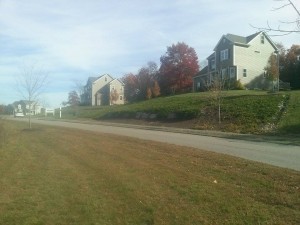 If you're reading this right now, there's a good chance your in search of brand new homes for sale in Massachusetts. When hunting for the perfect new housing development in MA to plant your family's roots, be sure to perform your due diligence. Remember, this is one of the biggest decisions you will ever make and shouldn't be done hastily. Worry not, well cover in detail why choosing Independent Building Corp's new home community Harris Pond Village could be the ideal choice for you!
We're not to big to care about your problems, and that's important!
Is it your first time building or buying a new construction house? A word of advice, be careful selecting your builder, you might absolutely love a community, but the new home you would be building in the community you adore is just as important. Putting in the time to do research on the builder could save you from making a huge mistake. Some of the major complaints with huge national home building companies is that they simply don't care about you after you close, lack attention to detail, and long response times. Good ways to check the reputation of your builder include, checking their Facebook pages visitors posts, or Google search their name + reviews.
Here at Independent Building Corp. we pride ourselves on being a small builder. We typically build between ten to twenty homes per year in our Harris Pond Village subdivision. We stand firmly behind the quality of our homes, and if issue's do arise you won't get the corporate run around. What you will get, is direct contact with the owners/builders of the company to help resolve your problems.
Our Unique Location Offers Amazing Value
When measuring up new home developments against each other, more often than not location is one of the prevailing factors for home shoppers. Harris Pond Village is centrally located between Boston, Providence and Worcester in the town of Blackstone, Massachusetts. Our location in Blackstone, which is only a stones throw from the Bellingham border, offers the same short commutes while allowing you to get substantially more house compared to neighboring towns such as Wrentham, Franklin, and Bellingham. If you were to buy the same brand new energy efficient large colonial house in Wrentham or Franklin that we currently offer for $479,900 your going to have to spend well over $600,000.
It would be easy to assume with such massive savings that you would be sacrificing many things that your family values, such as a strong school system, safe community, and beautiful scenery. You can put those concerns on the back burner.
Blackstone Millville Regional High School is thriving in Statewide performance, which is proven by schooldigger.com's rankings in which the school ranked higher than 73.7% of high schools in Massachusetts. In addition to the school's high Statewide performance Blackstone Millville Regional High School has been thriving in MCAS testing as proven by the school ranking 79th out of 291 schools in the state in 2015. Over the past decade the schools MCAS scores have been on a steady rise and look poised for continued growth.
As our tagline states Harris Pond Village is "Where Country Beauty Meets Modern Convenience" and the town of Blackstone as a whole encompasses the same country beauty. Meandering stone walls and picturesque scenery make this historic town one of Massachusetts best kept secrets.
In addition to our close proximity to Boston, Providence, and Worcester new home development offers short commutes near Bellingham, Franklin, Wrentham, Milford, Mendon, Millville, Providence, Framingham, Woonsocket. Marlboro, Cumberland, Southbridge, Attleboro, Cranston, Northbridge, Uxbridge, Norton, Lincoln, North Smithfield, Smithfield, Grafton, Plainville, Foster, Greenville, Harrisville, Johnston, Lincoln, Grafton, Millbury,  Pascoag, Burrillville, Glocester, Scituate.
Does Harris Pond Village Sound Like Home?
Come by our open house and walk through our striking model home, we also typically have a few spec homes for sale that are at various stages of construction. Let's start the conversation on your new dream home. We have floorplans and available lots showcased on the website for our customers convenience, feel free to contact us if you have any questions or want to setup an appointment.